Savings and profit
Energy prices will always rise, and as electricity is one of the elements necessary for business, the prospect of such an increase does not put anybody in a good mood. But you can make yourself independent of it, and even make a profit. How? The answer is the photovoltaics.
If your company's energy consumption exceeds a thousand kilowatt hours over two months, and the majority of its consumption is during the day, it will be worth considering investing in a PV system.
This move will certainly pay off. The legal situation of company systems is systematically improving, and their price is steadily decreasing due to the development of technology.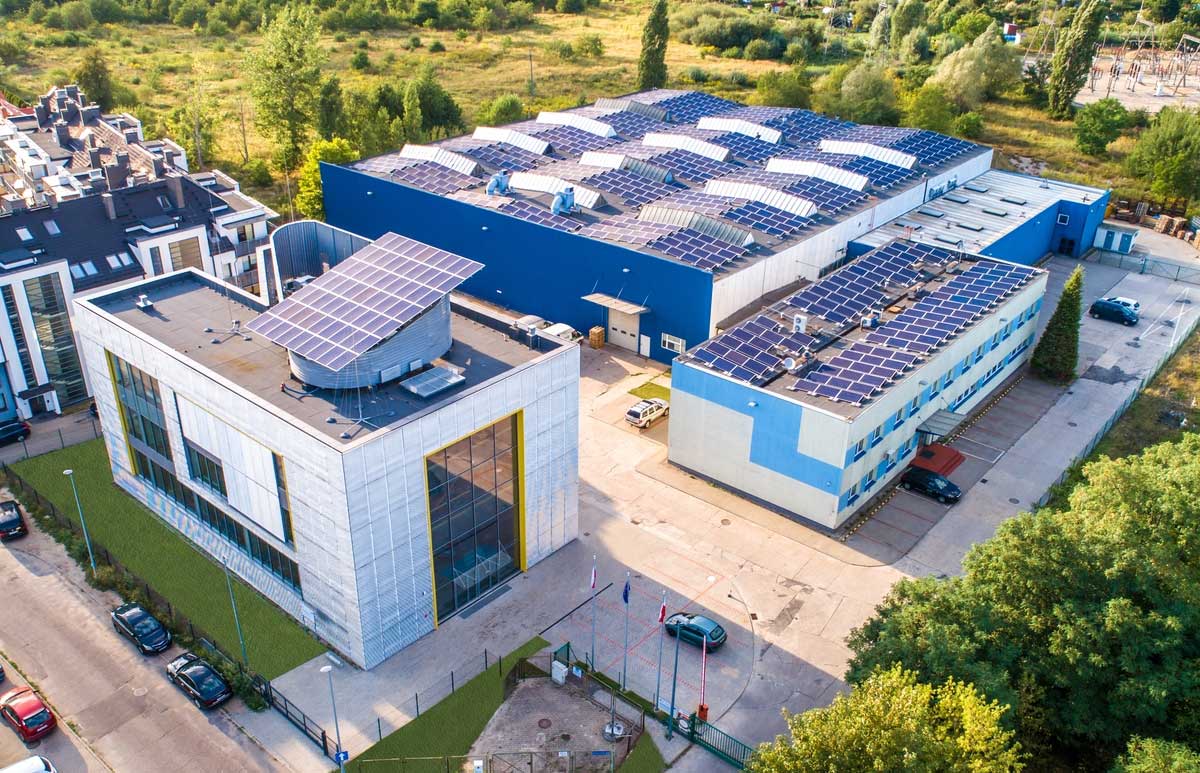 Photo: Solar panels powering a production plant
What is more, it allows you to fully deduct VAT, and it is treated as a cost in accounting books, which brings about savings related to income tax deductions.
All with the goal of reducing your energy bills by an average of 80 percent!
Electricity for industry
Investing in photovoltaics pays off to every company. The Renewable Energy Act makes it possible to balance energy in a discount system. Until recently, entrepreneurs were treated as independent power generators, which meant the resale of surplus electricity at wholesale prices.

In July 2019, this situation changed, as the Prosument Package was adopted. Under this scheme, entrepreneurs are included in the definition of the renewable energy prosument, which means that they can generate electricity and use the discount system, provided that their system capacity does not exceed 50 kW.

To be more specific, it is worth adding that a power distribution company fulfils in this situation the role of a "storage of surplus energy," which the producer takes back when there is a greater demand. Under what conditions?
For each kilowatt hour fed into the grid, the company can take 0.8 of its value in the case of a system with a capacity of up to 10 kW and 0.7 of its value in the case of a system with a capacity in the range of 10 kW to 50 kW.

Solar panels – savings and profit for business Photo: brewa.pl
The question here is what conditions must be met by the owner of a company who wants to produce electricity from photovoltaic panels with a capacity of more than 50 kW and earn money on surpluses?

The procedure is simple. Once the company's solar power plant has been set up, the entrepreneur must report the connection of its system to the electricity grid and declare the generation of electricity for its own use. This allows the entrepreneur to request the installation of a two-way meter. The next step will be to sign two agreements. The first concerns the provision of distribution services and the second concerns the sale of surplus electricity. The company then launches its photovoltaic system. Its inverter will show how much energy it has produced, and the meter – how much energy has been consumed by the company.
Cost of electricity, cost of leasing
Investing in a photovoltaic system is a good idea for any company, even a small one which is based in a proverbial garage.

The lack of funds to carry it out is not an issue – if the investment pays off, and you can make a profit on the surpluses, leasing is a great solution. The instalments can be spread over up to six years Why six?

"Solar panels for businesses – profit simulation"
The "Metalplast" production plant has several large halls on the outskirts. They are the tallest buildings in the area, and nothing casts any shadow over them. The plant consumes approximately 900,000 kWh per year. The company operates non-stop in a four-shift system.
On the basis of the electricity consumption analysis, it was decided to build a photovoltaic system with a capacity of 230 kWp, which will deliver approximately 230,000 kWh per year. 300 solar panels are to be located on the hall roofs, and the rest on the field owned by the plant. The power of the system was chosen so that the energy produced was immediately used, and no surplus was fed into the system.
Data and calculations:
730 PV panels with a power of 315 W = PLN 292,800 net
Inverters with a total power of 230 kW = PLN 59,200 net
Construction, wiring and assembly = PLN 216,000 net
Investment cost = PLN 568,000 net = PLN 698,640 gross
Purchase price of 1 kWh = PLN 0.55
VAT = 23%
Additional costs: assume that all inverters will have to be replaced 14 years after installation. For safety, also assume replacement of 80 PV panels between the 12th and the 25th year, that is after their product warranty expires. We assume that, after 25 years, the panels will operate at 83.4% of their initial capacity.

Assuming that the price of electricity will increase by 40% in 25 years, how much will "Metalplast" save?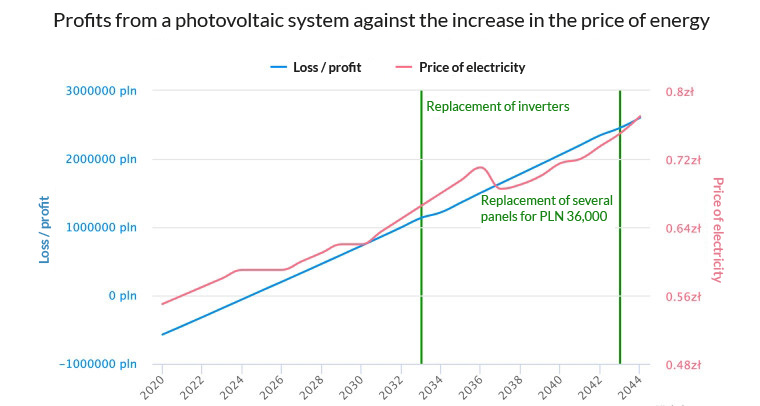 source: https://fotowoltaikaonline.pl/fotowoltaika-dla-firm
The investment will pay off in about 6 years.
After 10 years, profits will amount to PLN 596,000.
After 15 years, profits will amount to PLN 1,210,000.
After 25 years, profits will amount to PLN 2,603,500.
Additional data on panels::
Roof system weight – 8 tonnes
Inverter warranty – 10 years
Panel product warranty – 12 years
Warranty for panel yield after 25 years – 83% of the initial capacity
The reduction in panel performance has been considered.
The costs of cleaning PV panels (on average twice a year), and additional maintenance work have not been considered. The panels can also be equipped with solar tracking systems and soil sensors to increase the efficiency of the panels.

The simulation does not take into account inflation and changes in the price of inverters and panels over the years nor plant expansion. [1]
Leasing is not the only possible solution, although it is highly popular among Polish entrepreneurs due to simplified procedures, the possibility of including expenses in accounting costs, and immediate profits. Another solution is the subsidies.
Ask your financial expert
In addition to government programmes, including but not limited to "Mój prąd" ("My Electricity"), "Prosument2" and "Czyste powietrze" ("Clean Air"), focused on individuals and homes, the subsidies and campaigns for photovoltaic systems run by regional authorities are worth your attention. At the moment, virtually every voivodeship offers programmes to raise funds for activities related to renewable energy sources.

At national level, noteworthy is the "Energia Plus" ("Energy Plus") programme, which allows for the acquisition and installation of photovoltaic panels. The beneficiaries of the programme are entrepreneurs, who can obtain a loan of up to 85 percent of the eligible costs (up to PLN 3.9 million), granted for a period of up to 20 years for an investment.
As far as loans are concerned, banks and their offer of preferential loans can also provide additional assistance. Some banks offer low-interest rates for some projects, others have their own green offers for customers who do not benefit from any subsidies but need cash for the system. The agreement is usually signed for 10 years and the instalments of such loans are comparable to the profits – from the time the company repays the credit, it only experiences growth. We can say that these loans pay for themselves, and, in the long term, they guarantee profits.
Literature
[1] https://fotowoltaikaonline.pl/fotowoltaika-dla-firm